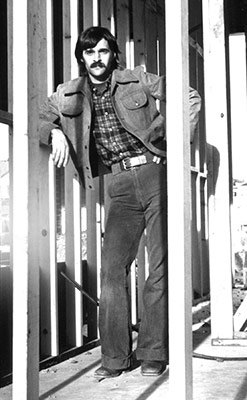 How it all started.
MartinLogan has a dream. It's a dream we've always had: To provide ultimate access to all media—music, film, entertainment, education, and communications—all of it there perfectly resolved, elegantly accessible, and pure.
In 1975 MartinLogan co-founder, Gayle Martin Sanders, became fascinated with electrostatic technology, believing the low mass, linearity and crossover free design of electrostats capable of the most perfect sound reproduction possible. This technology had been around for 100 years, but no manufacturer had yet resolved the numerous problems associated with its unsafe high voltage, large size requirements, and nonexistent bass reproduction, not to mention its extreme unreliability!
Completely undaunted, Gayle took the first steps toward a completely different approach in speaker design that would revolutionize the way people enjoy recorded musical performances. In 1978 (when he wasn't working his day job at a local hi-fi shop) Gayle spent free time in the University of Kansas engineering library studying every bit of information he could find related to electrostatic technology. His studies and experimentation began to show promise and early in 1979 his dream of a reliable electrostatic speaker system began to take shape.
This dream became a reality after he and business partner Karen Sanders teamed up with Ron Logan Sutherland. In 1981 they created the world's first practical electrostatic loudspeaker—the MartinLogan Monolith.
Along the way MartinLogan received numerous awards and US Government patents including one on the CLS (curvilinear line source) electrostatic panel.
From the first Monolith speaker to MartinLogan's most recent product releases, the growing number of dedicated people at MartinLogan have produced a continuous stream of audio and home theater breakthroughs ranging from the incomparable CLX and Summit X to the space saving designs such as the Motion Series—completely transforming the listening experience.